Leadership
Core Events for Leadership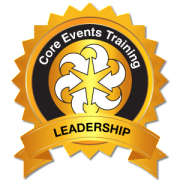 Core Events Accreditation for Leadership training offers a complete  development package solely focused on leadership. This high impact training allows participants to become more confident in their leading of their business or their organization. We train you or your organization on how to improve overall performance and help fulfill skills in self-awareness, team building, strategic planning, decision making, all of which area applied in real-world experience.
At Core Events we believe sustainable and influential leadership training has the best impact to create individual and organizational change. Leadership skills are essential and should not be taken for granted!
Our Leadership accreditation is designed for new or tenured managers who are seeking to advance their skills and competencies on managing and leading others. Based on the book "The Core Events of Leadership" written by Carlos Merla, this accreditation focuses on seven primary elements of leadership.
Accreditation Synopsis
This important accreditation is not a transactional training or training of the day or therefore it is designed to be an on-going program which expands to 6 to12 months or a 2.5 day workshop
Following the concepts of "The Core Events of Leadership" this accreditation takes you step by step on seven primary elements of leadership:
Significance of Acceptance – a lesson on self-awareness
The Art of Role Modeling – recognizing how to use role-models to develop and grow
Culture Identity – defining and creating a working and diverse cultural environment
Confident Communications – a critical element of any leader is the ability to communicate effectively
Five Principles – Precision, Planning, Practice, Patience and Positivity
Creating a Leadership SWOT – Strengths, Weaknesses, Opportunities and Threats
Leadership to Stewardship – the journey to take your leadership to the next level.
What you will learn:
What it takes to get to the top of your leadership game, no matter where you may currently be within your organization.
How to influence people to follow and believe in you.
How to give constructive feedback
How to use the power of communication to find your own leadership voice
How to increase and move your leadership skills towards becoming a steward to all
Accreditation cost:
Core Events Accreditation for Leadership pricing is based on a per person rate for full accreditation of 32 hours. (Group and Executive Coaching discounts available)
Contact us for more information and rate details.