Diversity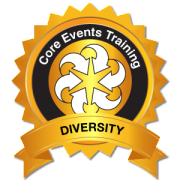 Core Events Training for Diversity
Core Events Accreditation for Diversity offers a complete training and development package focused on diversity and culture in the work environment. It is proven that cultural diversity training is the most important component of an overall business strategy.  Core Events training on Diversity provides the knowledge, skills and tools to assist individuals/organizations to recognize the importance of inclusiveness.
Specialized training for the "Core Events of Cultural Competency." This is based on the fiction and non fiction tales of Work, Travel, Diversity and a Proud Heritage, written by Carlos Merla.
Through our accreditation process, you or your organization will learn:
The impact from "cultural profiling" – How perceptions are made based on how people look, and, how people look at you.
Foundations of culture identity – Defining Traditional Cultures, Subcultures, and Universal Cultures.
Critical aspects of cultural competency – Building your knowledge of cultural awareness, knowledge and skill.
Creating a "work culture" – Key elements of developing a diverse work culture.
"Core Events of Cultural Awareness" – An overview of the book which is both fiction and nonfiction stories of Cultural Competency and a Proud Latino Heritage.
Our certified trainers come on site for organizational training or individual training is conducted monthly at specific locations world-wide.
Accreditation Synopsis
Day One/ On-Site:
Participant round-table open discussion to expose the opportunities or challenges of diversity and culture.
Definition of the aspects of diversity and culture identity. What it means, globally and locally, at home and at the workplace.
Definition of discrimination, the "what to do and not to do!"
Assessment through the "Ten Lenses" Your guide to living and Working in a Multicultural World by Mark Williams.
Creating individual and organization Diversity Plans

Accountability for fostering a great work environment
Communication of diversity values and accomplishments
Training/Education about the business benefits of diversity
Recruiting and selecting the right candidate
Awareness of inclusiveness and adversity
Involvement of all, not the exclusive
Virtual Follow up Sessions
Based on one-day or half-day offering the virtual sessions continues as on- going dialogue
Diversity of Cultures and when cultures collide
Creating a ROOTS based culture
Action plans – Diversity Success in the Workplace
Accreditation cost:
Core Events Accreditation for Diversity pricing is based on a per-person rate (Group discount available)
Contact us for more information and rate details.