Customer Relationship Management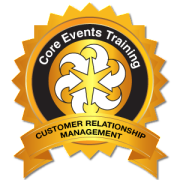 Core Events Accreditation for Customer Relationship Management is a very interactive training and development program focusing on proven techniques that guarantee to teach you, or your staff, how to win over customers and secure them for life.  A positive customer experience is the most important aspect of any business, whether that be in Retail, Resturant, Banking, Insurance, Technology and the list goes on.  If you or anyone in your organization have one-one contact with customers or potential customers, then you don't want to miss this training!
At Core Events, we recognize every business requires customers who buy your product or services. However, customers discontinue buying, not because of product or services delivered, but because of bad experiences that may occur during first interaction with you or your staff.  This is why our training focuses on developing core competencies as follows:
Effective Communication –  to include listening and understanding of non-verbal queues
Developing interpersonal skills
Cultural Awareness
Customer awareness
Decision making
Accountability and Adaptability
Accreditation Synopsis
Through this important accreditation, we present, train, and conduct role plays then constructively critique areas of improvement.  This accreditation is an eight hour program as follows:
Review and discuss the core competencies listed above. (2:00 Hr.)
Understanding and listing customer issues and concerns. (1:00 Hr.)
How to overcome customer negativity. (scenario based) (1:00 Hr.)
Creating a customer loyalty culture. (1:00 Hr.)
Role play training and development. (2:00 Hr.)
Increasing customer commitment and loyalty. (1:00 Hr.)
All training can be adapted to meet the unique needs of your customers.
Contact us today for more details: Info@CoreEvents.com